BBF Listing – BBF-74749156  Asking Price: $145,000 | Cash Down: $133,000 | Adj Net: $44850 | Sales: $79824
Be your own boss and make $$ as you grow this biz to its full potential. NOT a taxi service, this is a transportation service for executives and VIP's that don't want a Limo service & Uber/taxi service is just too impersonal. The client list is extensive & the vehicles are included & immaculate. Only works 20 hrs/wk & has well trained drivers that know how to cater to executive clients. Rapid growth for owner able to utilize the internet! Seller financing for qualified Buyer. Email me today for an NDA!
The Future Of Mobility
How close are we to a per-per-use transportation system?  Are the technical advances that make driver-less cars not only real, but preferential in terms of safety, speed, efficiency, environmental impact close enough to create a total upheaval of the automotive transportation and mobility industry… very soon?   And how can I, an ethical, award-winning business broker offer an executive transportation service when the future is about to change in a significant way?
50% of Gen Y prefer a pay-per-use car to owing one themselves.

 

Deloitte University Report

Craig Giffi and Joe Vitale, "2014 Gen Y automotive consumer study: The changing nature of mobility," Deloitte Automotive, 2014, www2.deloitte.com/content/dam/Deloitte/us/Documents/manufacturing/us-auto-global-automotive-consumer-study-100914.pdf.

  Half is a lot, but a long way from all, for now. There are no statistics yet on  Gen X and the millennials, yet. Presumably they will following suit… if they live in urban areas. As soon as you are no longer in an urban area, pap-per-use service becomes impractical and annoying.

Cycles in the rise and fall of industries take a long time to play out.

 There are stakeholders in our current way of operating – cars, buses, taxis, limos and executive transportation services – Wall Street, social attitudes, privacy, and of course, Government regulation. Look at all of the constituents within the extended automobile industry a $2 trillion sector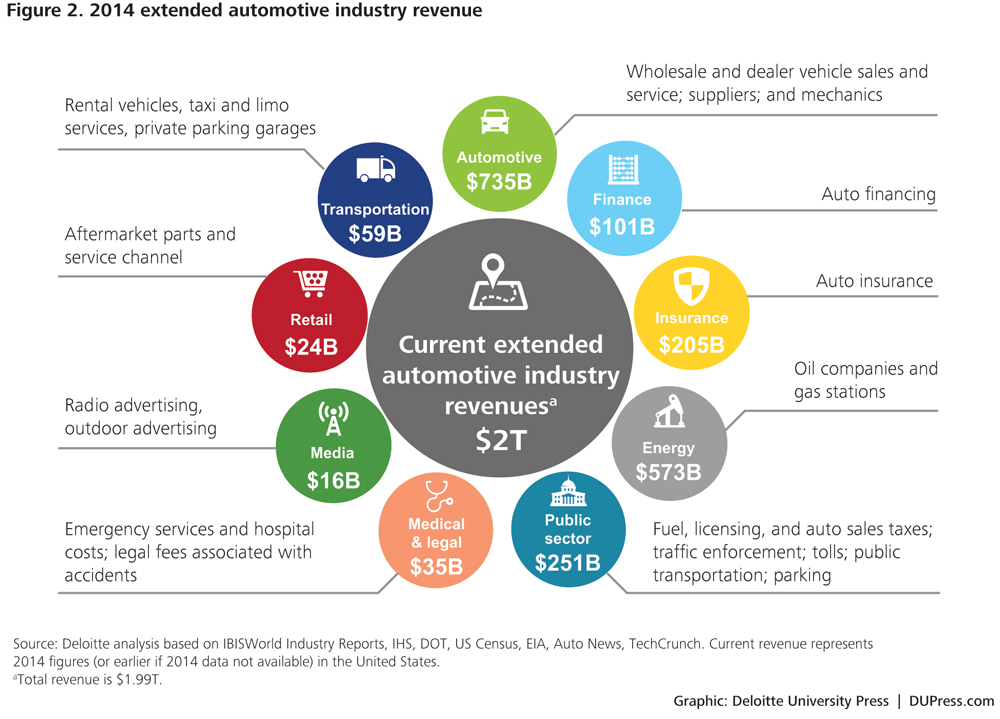 Busy, wealthy people, be they executives or not, will need their own kind of transportation longer than the rest of us. For –
Parking
Multitasking
"Designated Drivers"
Time
Luxury
Maintenance
These are just a few reasons a person of means might prefer a chauffeur-driven car.  Whether it is just to take them shopping, or a night out on the town, having someone else be the designated driver when going to a wedding, or dealing with the airport it is much more efficient and luxurious to have someone else deal with the driving. This is a group of people who have no interest in the impersonal, ostentatious limo, nor the risk and haphazzard-ness of a taxi service.  Forget Uber….for the same reason, actor Hugh Grant and Charlie Sheen used to say they used hookers when any girl in any bar would have been more than willing and cheaper.  "They won't leave," both actors have said on separate occasions.  "It's just easier to be with someone who has to leave or their manager comes to get them."