BBF Listing #74782275 – Great cleaning business for sale specializing in "Soft-Wash" as an alternative to pressure washing for Roofs, Decks and Screens. Good mix of commercial and residential accounts and repeat business. Great staff in place. Low overhead combined with an exclusive soft-wash system make this a great money-making business with lots of room for growth! Generous Seller Financing for a qualified Buyer. Figures assume FT owner operator.
Won't last long so email me today for a Non-Disclosure-Agreement.
You Can Clean Up!
Most people could brush off their own window screens, scrub their own deck and turn a hose on the roof – or a part of it, at least! But who wants to?  If you can afford to pay someone else to do it, then that is most people's preference.  Especially with an office.  A cleaning business can be lucrative, flexible and built quickly if you have reliable crew and do a good job.
Why have your top sales people vacuuming the floor when they could be making money with their time?
The Janitorial Industry does not fluctuate the way most other businesses do.  Businesses need their offices cleaned in a good economy or bad, if it wants to maintain a professional and clean environment. Commercial cleaning offers a steady market with consistent demand.
Advantages of a Cleaning Business
Low Overhead
Unskilled workforce
Recession Proof (see above)
Repeat Business
Simple product
In this way, a cleaning business is a bit like a landscaping business, except that the startup equipment bill is much lower!
A Personal Experience
For a small investment, Lourdes Villafuerte built a cleaning business thanks to purchasing a franchise. That option is not for everyone, but if you like a template to follow, it might be the right choice for you.  Here is her story:-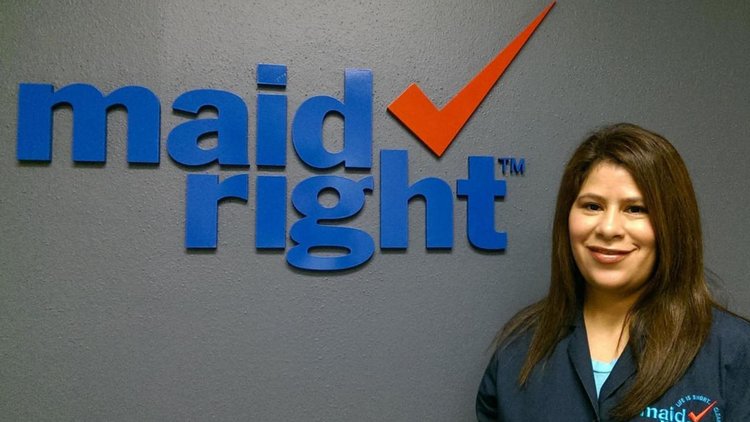 [Click the photo to be taken to the article or here]
Cleaning Business For Sale  – Examine These 3 Facets First!
Once you have contacted a business broker, in this case we recommend our own John Geiwitz [(904) 647-4755]  you will want to look at the business with three key things in mind:-
Are the books as the listing claims?
Does the business have an efficient operating system? Could you improve it without losing key personnel or team members? Sometimes, crews get comfortable with the way things have always been.
Is there an expectation that the current customers will stay on under new management?  When you buy an existing business, you are buying their customers, their inventory and their process of delivery.  You need to make sure all of that is going to stay as promised, or what are you buying?  A suggestion or a business?
Lastly, don't forget to carefully examine the insurance contract.