BBF 74755634 – Great opportunity to own one of NE Florida's premier Interior Design company. Focused almost exclusively in very affluent communities. Strong sales with a large backlog for 2016. Beautiful showroom. Fully staffed with designers. Owner is relocating after successful transition with Buyer. Well established firm averaging > $1M/YR. Great reputation working with multiple high-end builders & upscale clients in exclusive neighborhoods. #'s assume fulltime owner operator. Will not last email today for NDA!
Interior Design Industry Forecast
Obviously, interior design is a discretionary spend, and as such, it is not easy to quantify.  However, The American Society of Interior Designers (ASID)  – the exclusive trade association for professional interior designers – does an excellent job with their industry forecast for each year. The most recent is that of 2015 – 2016 wherein they declare that a rosey future ahead for the industry. The numbers are approaching pre-recession levels, as you might expect from the economic recovery visible in Jacksonville real estate, particularly.
total number of employed interior designers –> 60,824
total number of design firms –>13,257
total sales –> $8.6 billion and
the dollar value of products specified is a reported $68.5 billion.
25% of all firms report needing to add employees this year. The challenge to find and retain all the talent needed is as acute as it has ever been.
But interior design isn't just growing, it's evolving, too. Macro-trends that affect all of us (Health & Well-being, Technology, Sustainability, Urbanization, Globalization, and Resiliency) are changing the topics we consider when working on design projects. And each macro-trend has its own set of sub-trends. Holistic design thinking and higher sustainability standards are identified as the most transformative, while designing for healthy behavior and the Internet of Things are two of the fastest moving. Each of these macro and sub-trends are being adopted by designers of different disciplines at various rates. Firms that don't adapt to the trends are at risk of getting left behind, especially as threats loom such as those posed by increased international competition and the emergence of crowdsourcing.
The interior design industry measures something called a Billings Index.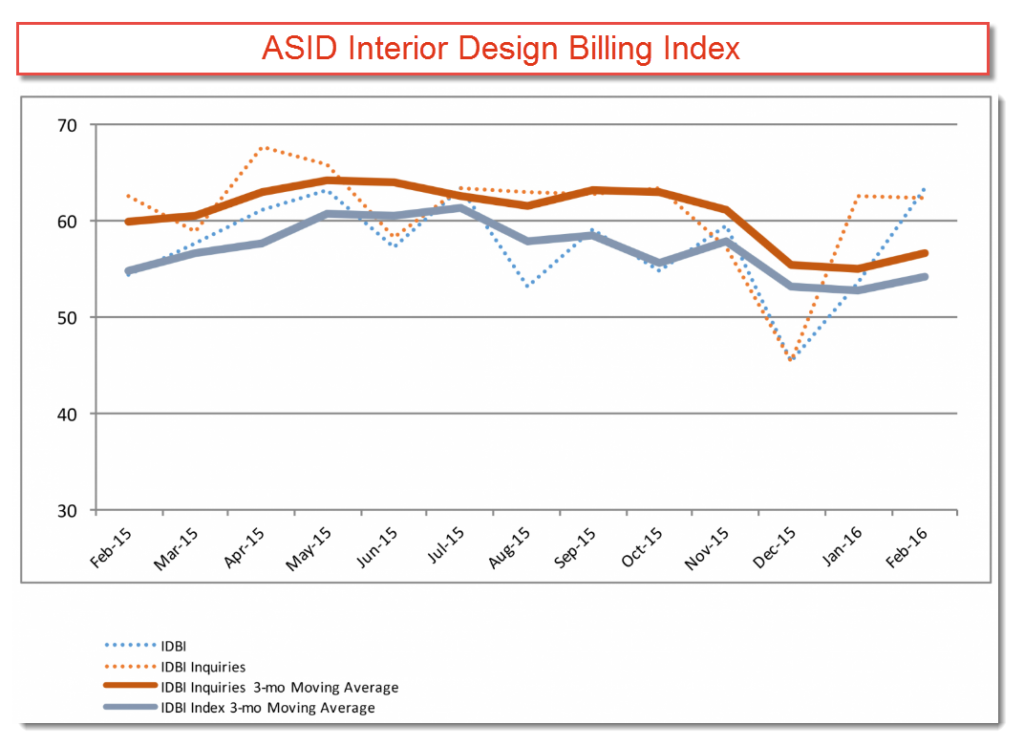 Key Trends An Interior Design Company Works With Daily
Aging in Place/ Accessibility
This has been a trend for a while, as the Baby Boomer generation ages. In some areas, managed care is so expensive that the older generations have to move in with their younger family members – there just isn't any other economically viable option. As technology improves, many features can be modified for the elderly: pull-out cabinets to reduce bending, bedrooms and bathrooms on the main floor, walk in showers, etc.  People are living longer.  They need somewhere to be. This trend is not going away any time soon.
Sustainable Design
Once thought to be the indulgence of liberals and tree huggers, the need to diminish our impact on the environment has gone mainstream. Though it is still a more expensive option, whenever people can afford to buy goods that have been produced in an environmentally responsible way, they do.  However, it is not always easy to find those resources. This makes another compelling reason to work with an interior designer.
The Connection between Health and Designing the Spaces We Inhabit
Many factors within interior spaces affect the health, both mental and physical, of occupants.  From subtle choices, like color and pattern, to systemic issues, like physical comfort and indoor air quality, designers can positively affect health and healthy behaviors, as well as help reduce negative behaviors, eliminate harmful substances in the environment, and prevent the spread of disease and infection.                                         ~ ASID
This is a great time to be in interior design!
Consumers are looking for more immersive experiences.  With retail stores becoming ever more comprehensive as destinations, (read: Apple's new store in San Francisco) and packaging evolving to include tactile, textural, aromatic and interactive aspects (read: Highlights of LuxePack New York 2016)  As a result, women, especially, are demanding interiors with similar layers of sophistication.  Rich contrasts in texture, materials and the LACK of color are not easy to pull together. Most people need an interior designer.
Never before has the appetite for interior design been nourished in more directions.  Tv shows, increasing numbers of interior design magazines, blogs, websites… it's almost unending.  But the ordinary consumer cannot access the things they see in those magazines, on those blogs and websites.  Most of the really lovely decorative fabrics, lighting, furniture, accessories are available only To The Trade.  Hence, the need for an Interior Design.
The time to own an interior design company have never been better!