BBF Listing #74751498 – Well established, liquor store in Clay County that comes with TWO liquor licenses (each worth $80,000) and an impressive $500,000 of inventory.  Asking $1,140,000 | Annual Sales $1,017,000 | Owner Benefit $287,000. The seller asks for 50% cash down, and will carry a note for the remaining balance of $517,000 at 5% for 15 years.
Buying a liquor is great Job Security; the business is recession-proof. Liquor Stores are one of the few businesses impervious to the economy. It is a business that also enables you to know your neighborhood. And then there's the nice profitability – if you can keep your cost of goods low.
For a quick overview on distributors and how to work with them – here is the story of a man who accidentally bought a liquor store when he bought the land it was on, and the lessons he learned from it.
In order to keep your relationship with distributors "reasonable", you are likely to have to buy in larger quantities than other businesses tend to.  Keep in mind, a good liquor store tends to turn its inventory 8 – 10 times a year.  Knowing your distributors and your neighborhoods preferences become important piece of the profit puzzle.  With this listing in Clay County, our owner has been successful with both and established an impressive model.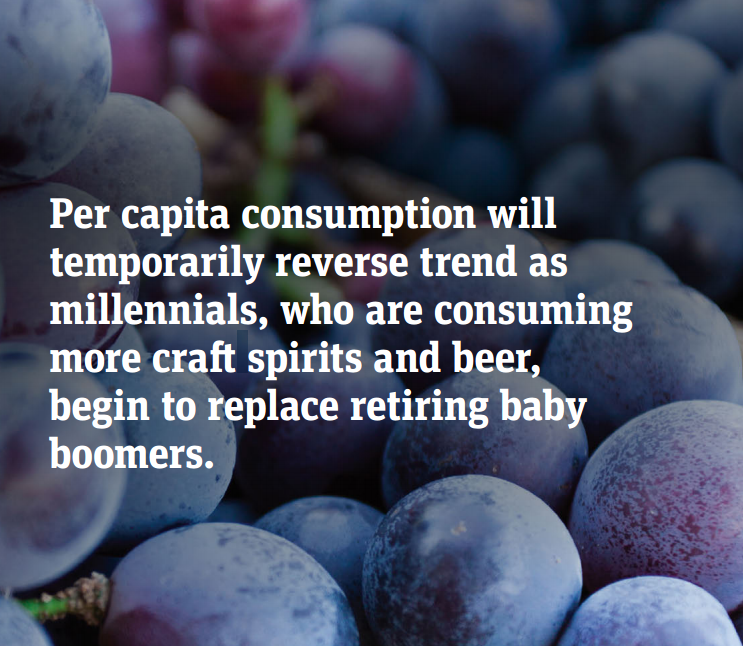 Wine
Wine Growth to Decline as Boomers Age: A shift in the most robust wine drinking population – baby boomers – will lead the industry to adjust its strategy, according to Silicon Valley Bank's annual Wine Industry Report. Baby boomers currently purchase approximately 50% of the fine wine in the U.S., but their purchasing power will decline as they retire in upcoming years. Meanwhile, younger generations typically drink more foreign wines and generally have less purchasing power. Higher debt and lower income are among the reasons that will likely keep younger consumers from trading up to higher priced wines for at least five to seven years, according to the report.
State of the Wine Industry – 2016 Silican Valley Bank Report
Wine Specific Predictions
▸ We are forecasting a sales growth range of 9–13 percent for the premium wine segment in 2016, down from 14–18 percent in the prior year.
▸ Growing local regulations around tourism will continue to damage opportunities for small wineries to sell direct.
▸ With the transactions we presently see in the queue, we will certainly start off the year again with some large and notable sales of premium vineyards and wineries. Mergers and acquisitions (M&A) will remain active throughout the year.
▸ Tens of thousands of additional grape acres will be permanently removed from the California Central Valley.
▸ A strong and strengthening U.S. dollar, available foreign supply, and willing millennials will encourage imports at all premium price levels.
▸ Growing bottled market share of imports should be a heightened concern of U.S. producers.
▸ The narrowing supply of arable land suitable for higher-end wine production will drive vineyard prices higher.
▸ Oregon and Washington will continue to see high interest for vineyard acquisition for premium and luxury wine production.
▸ We expect to see bottle prices rise by 4–8 percent above the $10 price point, and see both volume and price drop below $8 bottle price
Key Statistics From INvestment Firm, Gordon Brothers Group
Approximate Net Recovery on Cost
    Liquor-Retail: 85%-95%
Key Statistics
Industry Revenues: $45 billion (Beer: 25%, Wine: 30%, Liquor: 40%, Other: 5%)
Major Product Catergories: Beer, craft beer, red and white wine, liquor
Significant Companies: Beer: Anheuser- Busch, MillerCoors, The Boston Beer Company; Wine/Liquor: Beam Global Spirits & Wine, E&J Gallo, Jackson Family Wines, Brown-Forman, Constellation Brands, Diageo North America, Heaven Hill Distilleries
Market Share of Top: The top 50 companies generate approximately 20% of sales
Recent Sales Trends: U.S. retail sales for food and beverage stores increased 3.1% in the first three months of 2015 compared to the same period in 2014.
The trade association for liquor stores in Florida is FISA – the Florida Independent Spirits Association.  You can read news of their lobbying efforts and matter of concert by going to
News Articles on FISA's Lobbying Results
Not the slightest bit relevant, but interesting….