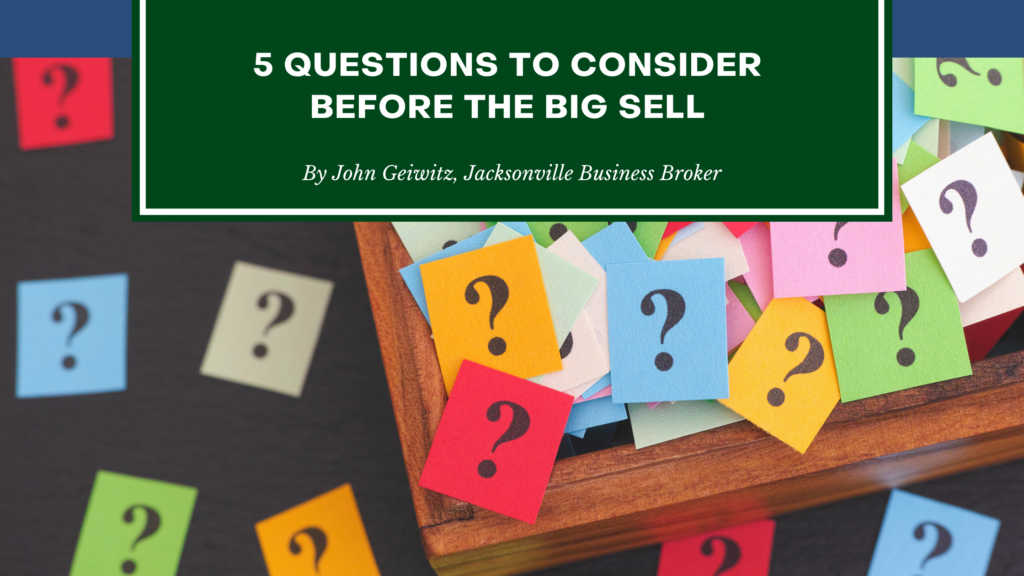 Making the choice to sell a business — whether a big or small corporation — should never be taken lightly. It's rare that a huge decision like that doesn't come with a decent amount of research and soul searching.
If you don't have employees or family members who can take the torch and step up to the entrepreneurial plate, you may feel compelled to sell. While some business owners are positively ecstatic about the prospect of selling, others are wrought with emotion and doubt. Ask yourself these important questions first to help alleviate some of that uncertainty.
What's my next step?
Many times, business owners find themselves stressed and burnt out, desperate for a break and ready to retire. Then they later find themselves bored and unsure of how to fill their time. Crickets have replaced conference calls and a once-busy calendar has become barren. What's a person to do? Make sure you have some sort of a hobby, a passion project, and/or a reliable social network available to fill a bit of that idle time.
Is my business ready to sell?
Preparation is key — selling a business isn't something you get done in a week. Eliminate as much debt as possible, gather any important financial documents, including tax returns, and perform a thorough evaluation of your business, covering both strengths and weaknesses.
Can my business continue to succeed if I'm gone?
You want to ensure that your managers and employees are well trained and have the proper skill set to execute the day-to-day operations. If you left for a long vacation, would your company continue to run smoothly? And if needed, are you also prepared to assist for a period of time post-transaction? Nobody wants to buy a business that is overly dependent on its owner or any one single person.
Is it the right time to sell?
Typically, your business should be at the top of its game when you sell, with profits steadily increasing and ample employment opportunities available. You also want market conditions to be favorable and ensure you're ready to move on to the next stage of your life, be it retirement or an exciting new career change.
Do I have the right team around me to help me sell?
When selling a business, it's crucial to have an experienced, dependable team in your court who can not only keep the news confidential, but who are well suited to get you top dollar. A good CPA will help navigate any financial aspects, while a transactional attorney can aid in legalities and closing. Lastly, a competent business broker is a worthy consideration, as they can help you maximize the sale price while also providing access to a bevy of potential buyers you wouldn't otherwise know about.