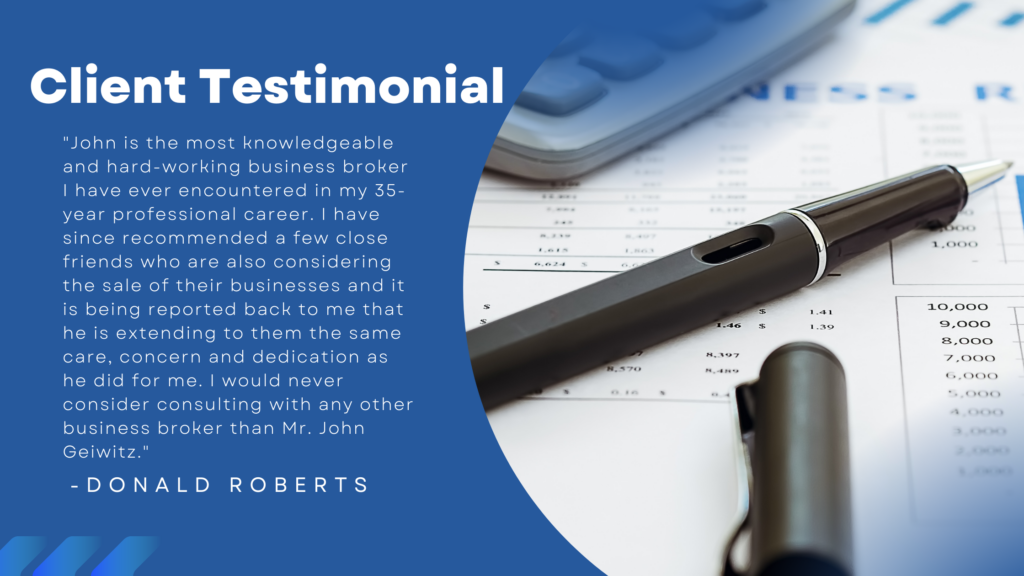 I met John Geiwitz in early 2018 when my then business partner and I were contemplating the sale of our business.  John met with us on several occasions to discuss the possibilities as well as to give us valuable insight into what should be considered prior to making this decision.  John dedicated numerous hours in helping us to not only determine if this was the right time to sell, but also in determining a strong but fair selling price.  We were required to do very little work up front, other than to supply John with data about our company.  John then worked tirelessly to ensure the marketing and sales plan was in place.
John aggressively marketed our business and in a very short time, had 2 very serious prospects.  After meeting with both potential buyers, we decided on the one that was a best fit and John moved the process quickly into the due diligence phase.  Within a couple months, we were fully contracted and John continued to do all of the hard work to culminate the sale.  There were many obstacles to overcome and John handled every one of them with very little work required on our part.  In a very short time, the closing was successful and the transaction was complete.
John stayed in touch with us even after the sale and within a few months brought me a prospective business to purchase.  Following due diligence, I did purchase this business without need of a business partner.  The business then experienced growth, just as John had indicated was possible and 16 months after I purchased this business, John was able to resell it for me at a handsome profit.
John is the most knowledgeable and hard-working business broker I have ever encountered in my 35-year professional career.  I have since recommended a few close friends who are also considering the sale of their businesses and it is being reported back to me that he is extending to them the same care, concern and dedication as he did for me.  I would never consider consulting with any other business broker than Mr. John Geiwitz.  He is not a transactional businessman, but rather a relationship builder.  I count myself fortunate to have met him. Additionally, I am fully willing to speak to anyone who is considering using John in their business transaction.
-Donald Roberts, Jacksonville, FL