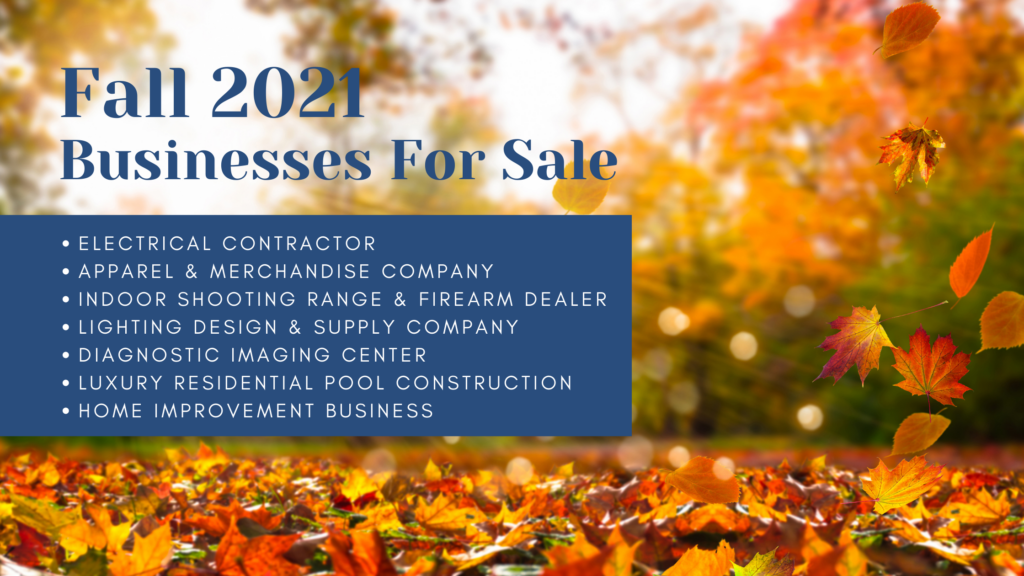 With the changing of the season (and business ownership), comes some very exciting and opportunities for buyers. From an apparel and merchandising company to a shooting range. If you are looking to acquire a business this season, John Geiwitz, The Jacksonville Business Broker, will guide you through the business buying process from beginning to end.
John is a Board Certified Business Intermediary located in Jacksonville, Florida. Please feel free to call 904-647-4755 or email johng@tworld.com for more information.
The Jacksonville Business Broker can also help designing your exit strategy with a great deal of experience in valuating and selling related businesses.
Electrical Contractor
Don't miss your chance to own this highly reputable Electrical contractor company established in NE Florida for 26 years. The business has long-standing relationships with many large builders of new residential developments, a good mix of custom homebuilders & commercial properties which brings approximately 90% of the revenue. The company has never advertised, the growth has been strictly organic from their stellar reputation in the building industry. Low employee turnover with long-term-tenured employees. Excellent staff in place, Office Manager, Warehouse Manager, 12 Lead Electricians, and 10 helpers. Turnkey operation with excellent vehicles and equipment in place. Conveys with $350K in inventory and various office equipment. SBA pre-qualified with only 15% down ($450,000) for a licensed Buyer with experience in the industry. 3 months of Seller assistance is included.
Price: $3,000,000
Inventory: $350,000
Down:

$450,000 SBA Pre-Qualified

Net: $1,501,135
Apparel & Merchandising Company
Don't let this one pass you by! Work where others go to vacation and enjoy a historic resort area known for "easy living" and gorgeous views. This business boasts a twenty-six-year history of success. Two locations in close proximity in a popular tourist destination offering apparel and desirable merchandise. Sale includes approximately $315,000 of inventory. Trailing Twelve Months used for 2021. NDA and PFS are required. Adjustment made for one full time owner/operator and to normalize rent expense.
Price: $1,395,000
Inventory: $315,000
Down: $147,900 

SBA Pre-Qualified

Net: $522,675
Indoor Shooting Range & Firearm Dealer
Indoor Shooting Range & Firearm Dealer business for sale with Real Estate in the Jacksonville Florida area: A state-of-the-art facility built from the ground up with the customer in mind. Modern and well-maintained retail/shooting areas. Fully staffed with excellent managers in place allow the owner to work minimal hours. Confidential information available to qualified buyers only. NDA must be signed.
Price: $2,990,000
Real Estate: $890,000 (Included)
Down: $450,000

SBA Pre-Qualified

Gross Sales $3,092,000
Lighting Design & Supply Company
Don't miss your chance to own one of NE Florida's largest and most established lighting design and supply companies. Offering a wide selection of lighting products and ceiling fans for home, business, and other interior spaces from chandeliers, kitchen lighting, unique lamps, or other lighting fixtures. Operates from a large, beautiful showroom with Jacksonville's most extensive display of chandeliers. Located in a heavily populated area with great lease. Experienced staff! Full turnkey operation with huge growth potential and generous Seller financing makes this a perfect opportunity to do something you love and add a little light your customers day. This won't last long so email me today for an NDA so I can share the details about this amazing opportunity.
Price: $1,800,000
Down: $1,300,000

Generous Seller Financing

Inventory: $895,000
Gross Sales: $3,500,000
Diagnostic Imaging Center
Diagnostic imaging center established several years ago with patient care its core mission. The center offers MRI and X-Ray services with optional space for additional modalities if desired. The Seller is exiting the business to retire. Key employees include sales/marketing, operations manager and medical staff who manage the day to day operation of the business. The Seller will stay in the business for a short period after closing to ensure a smooth transition and is available for extended support with a mutually acceptable agreement. They accept all major insurances, including PIP, and have strong relationships with referring physicians in the market.
Price includes all assets of the business and Accounts Receivable with an estimated collectible value of $650,000. A full information package is available with a signed NDA. Proof of funds required.
Price: $2,900,000
Down: $300,000

SBA Pre-Approved

Gross Sales $1,701,552
Net: $569,016
Luxury Residential Pool Builder
A Luxury residential pool construction company that also supplies Ongoing Service and Maintenance. They not only can transform your backyard with spectacular pool designs, but can create the total outdoors luxury experience inclusive of outdoor kitchens, pavers, resurfacing and remodels. They do not advertise, their quality work and attention to detail and customer service brings customers to them. By utilizing subcontractors, they minimize overhead. They currently have in excess of 6 months backorder for new and remodeled pools and service and maintenance representing
almost 15% of their monthly revenue, ensure a smooth cash flow. Long term loyal employees. CPC License for pools is required. 2021 PL represents rolling 12 months ended July 2021.
Price: $3,850,000
Gross $8,922,405
Net $1,457,939
Specialized Home Improvement Business
Successful home improvement business for sale. Motivated seller with a 15-year history of success. Priced very aggressively to sell quickly. SBA pre-approved with only 10% down. 10% seller financing. Lots of opportunities for growth.
Price: $399,000
Down: $49,510

SBA Pre-Qualified

Net: $294,798
Sales: $1,308,025