BBF – 747-521619   Be your own boss today! Rapidly growing janitorial service with strong accounts and   loyal customers. Major focus on medical facilities, schools and auto dealerships. New accounts have just been awarded and more are coming this year. Great workers in place require only about 10 hours per week from the owner. Huge potential for growth especially for a full-time owner-operator. Turnkey operation with great equipment including truck/trailer and all the equipment you need to take this to the next level. Priced to sell fast with generous Seller financing for a qualified Buyer.
Janitorial Industry Statistics
Known also as the Cleaning Services Market , the size is expected to grow at a compound annual growth rate of 6.2% to reach $74,299 million by 2022. Janitorial services include a wide range of services required by commercial and residential sectors.  They are of particular importance in the medical community where one missed machine can nurture fatal bacteria quickly.    More statistics. 
As of May 2018, there were over 3.24 million people working in the cleaning services industry in the United States. Janitors and cleaners (not including maids and housekeeping cleaners) made up the largest portion of employees in this industry and earned a mean annual income of 28,950 U.S. dollars.  More Information at Statista.com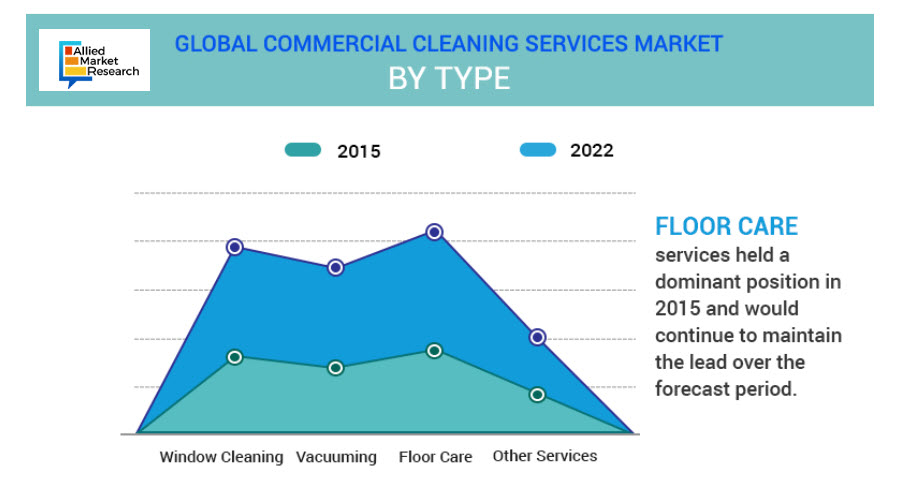 Janitorial Cleaning Services Definition
When you hear "Janitorial Services" you may wonder what is included.  The definition tends to mean commercial property cleaning, including professional offices, educational, medical and industrial business cleaning. Sometimes, a commercial janitorial company will add to their menu of services property management and custodial assistance – moving chairs and tables around, etc. Those who perform the work are referred to as custodians, janitors or cleaners.
Jacksonville Janitorial Company
How does a Jacksonville Janitorial Company get chosen?
In the internet age, with word of mouth referrals so easily searchable, what are the criteria for hiring a janitorial company?  How do potential customers know which company can reliably keep carpets, floors and windows clean, and efficiently handle the bathrooms and garbage removal.  Expert vendor sourcers say there are 4 things they look for every time.
1.  The Variety of Services Offered
 Some companies offer a set package.  It is a good idea to ask how many clients they have who go à la carte.  Most companies will clean the surfaces they can see – floors, counters, desks, restrooms, etc.  Do they offer windows as well?  Is that an upcharge?  What about upholstery cleaning and clean up after special events.  The more services a company offers, and the easier they make it for customers to tailer their own package, the more business potential there is. 
2.  Reviews from Past Experience
 There are a myriad of sources to check.  Nextdoor seems to be most active, most current one we have in Jacksonville; you can ask your neighbors who they have used and who is the best value/most professional.  Yelp is still good and Google will be the gold standard for quiet a while longer.  Facebook is sometimes a good source for references, as is LinkedIn if you are looking for a larger company.
3.  Quality  = Reliability of Employees
 The reviews will hint at the reliability of the employees, but there are some questions people ask.  
     – how often do you provide training?
     – who provides the training?
     – how long do your employees stay employed with you?
Asking about the company hiring process and how often a supervisor checks the teams' work tells you quite a bit about the reliability and quality of the work crews.
4.  Experience within the hiring company's industry.
An attorney's suite of offices require a different kind of cleaning to the medical facility that runs dialysis machines.  Not that the lawyers would appreciate less than well-cleaned bathrooms, but there is a distinct advantage to hiring a work crew with experience dealing with water rooms, patient treatment rooms, etc in medical facilities if that's what you have to looking to have cleaned.    The ability for a company with multiple crews to adher to rigorous industry guidelines is imperative for a janitorial company's success.  As you can imagine.
If these are what vendor sourcing professionals are looking for, now you know what your Jacksonville janitorial services company has to look like.