BBF #361585
Don't miss your chance to own Turnkey opportunity with staff (Seller does not clean pools and has very little customer interaction), trucks and all equipment you need to grow quickly. Seller owns an unrelated business that he wishes to focus on. 135 accounts 90% on autopay, generating over $375,000 of revenue per year with some additional repair income and some cash accounts. The majority of the accounts are long term loyal customers that have been with them for 10 to 15 years: 37 accounts in Green Cove, 25 accounts in Orange Park, 62 accounts in Fleming Island and 11 accounts in Middleburg. Email today for NDA.
Annual Sales: $380,645
Owner Benefit: $180,100
Asking Price: $375,000
Cash Down: $260,000
Pool Cleaning Industry Statistics
While you consider buying a pool cleaning services company, you might want to know the industry projections.  Marketwatch reports:-
The global consumption of pool cleaner products rises up from 843.4 K units in 2013 to 1463.3 K units in 2017, with an average annual growth rate of 11.65%. At the same time, the revenue of world commercial pool cleaner revenue market has a leap from 355.8 M USD to 590.5 M USD.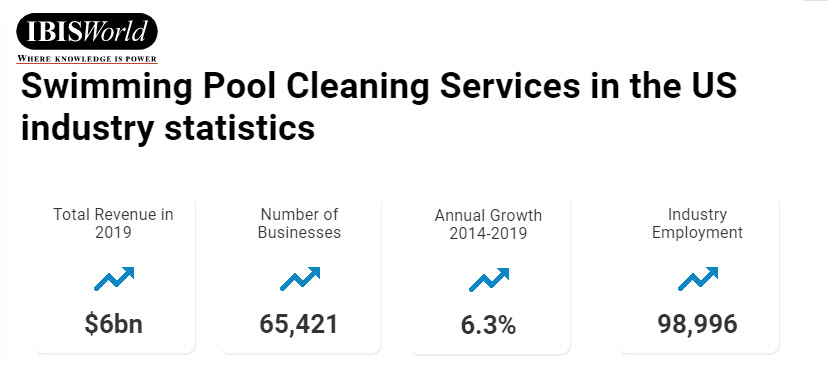 3 Broad Business Trends for Pool Cleaning Services Companies in 2020
With technology every increasingly becoming more sophisticated AND mainstream, it only stands to reason that many of the trends for Pool Services Pros is as a result of technological improvements.  Both in the equipment, the way the pools get serviced and the design materials available to make them look luxurious and stay clean.  Here are the top 8 trends I'm hearing people talking about as this Spring 2020 gets underway.
 More Tech – What was once only available in luxury resorts is fast becoming possible on a smaller scale for residential pools.  And it's affordable too.  This means things like

Automated Systems – including remote access via apps and more sophisticated times
Variable Speed Pumps – with "smarter" pump control, pool owners can maintain a smoother flow for when they are enjoying the pool themselves and a shorter more aggressive flow when they simply want to oxygenate the water… or whatever the homeowners' preference is.  A lot more control is possible now.
Robotic Pool Cleaners – think" Romba for the pool.  When they work, they are most effective.

More Design Choices

Lots more Deck Design Materials – as concrete becomes more versatile, so the options for creating a unique pool deck increase.  Travertine and stone pavers will always be solid options, but now there are synthetics that can look fantastic and last a long time.
New Pool Resurfacing Options – remember when pebbles in the bottom of a master bathroom shower was the in thing. Now, that trend is coming into pools via products called Pebble Tec and the like. There are even shell compounds now that are trending as prices become more reasonable. Here's the Pebble Tec website if you want to see the latest options available.

Less Chemicals – or at least Greener choices

Chlorine Alternatives – looking towards energy efficiency and safety, this year you will see installations of generators that turn sodium chloride (salt) into a salt chlorinator.   This kind of water has less chlorine, and is therefore gentler on the skin, the eyes, apparel and toys. Salt water adds health benefits, and breaks down bacteria faster than pure chlorine.