Asking: $130,000 | Owners Benefit: $69,898
Annual Sales: $239,942 | Cash Down: $100,000
Rental Car Company For Sale
BBF Listing # 74783414 – HUGE GROWTH POTENTIAL! Well established 16 years Unique business rents cars to customers without credit cards. Minimizes risk by utilizing GPS technology & remote-control capabilities of its fleet. Every rental requires a healthy deposit, proof of insurance & valid driver's license. Sellers other business can assist with repairs & fleet sales/purchases. Currently only rents 18 to 20 cars (All Included in the Price) intrastate rentals would easily double revenue. Proven staff and systems in place.
Why Get Into The Rental Car Company Business?
>> Demand is growing at 15% through 2019 – see below <<
if you love cars, enjoy fixing them and have a strong feel for detail then this could well be a dream business for you.  Since what you are selling is allotted time for usage of your fleet of cars, it is important to have good systems in place to handle your logistics. More than insurance, this means software for handling the rental contracts, the maintenance of the vehicles, and the book-keeping.  It can be is a highly competitive field…lucrative…and growing fast….and your success depends as much on the business model you choose and most importantly, the kinds of customers you intend to serve.
If you are interested in renting out clean, mid-size 2 and 4 door sedans, likely as not you will have to compete against the national chains – Budget, Avis, Hertz, etc. It will be price driven, and that model may have tight margins making it hard to be profitable. However, with tourism on the rise, there is always a good demand.  And you may not have to be dependent upon the airport.  Train Stations, Bus Depots and Ports can be other places to intersect with travelers.
But if you can rent out specialty cars or can make a vehicle available to the kinds of customers the "nationals" won't serve, then your competition may be based on something other than price. You can carve out your own business, your own model and you may not have competition at all.
You can specialize by vehicle, by customer, by terms, lots of different ways.  A quick example is specialty cars within the fleet:  a PT Cruiser might be available at a premium rate  – $80/day as opposed to your usual $50/day – because it's considered a fun car to drive.

Does the DEMAND for rental cars make this an "evergreen" business?
Car Rental Market Growth is predicted at 15% through to 2019.
Reasons:
1. Increase in Tourism
2. Ease of Reservations and Price Comparison Shopping
Other Reasons People Rent Cars Includes –
3.  Their current vehicle is in the shop
4. The Un-Car'd – people, who for whatever reason, do not own or want to own a car. (Usually folks in urban areas where parking is a premium and public transportation adequate.)
5. People Who Want to Use a Specific Vehicle For A Specific Purpose or Time Period – Business, Certain Trips (often long trips), Test Drives over longer periods, etc.
6. Luxury Car Rentals for Special Occasions –
Father's Day
Anniversaries
Birthdays
College graduations
Valentine's Day
Honeymoons
But also, (ideas from http://enlightenme.com/luxury-car-rental/)
A first date
A marriage proposal
A night on the town with the girls or guys
A romantic night out for new parents
A weekend getaway
Car Sharing
Does the concept of Car Sharing dilute or augment the need for a car rental company?  For an in depth analysis of Car Sharing's growth and potential, check out this State of the Market article by Chris Brown. The two are converging is how I read the article, which makes sense. It's simply a different kind of contract. Vehicle drop off points seem to be a bit of a differentiator with logistical challenges to solve.
"Studies reveal that the millennial generation is eschewing car ownership in this new era of social media, and auto manufacturers have taken note. Audi is piloting a program in Stockholm that allows four people to share an Audi for up to two years. In Germany, Ford researchers are testing a smartphone app that lets commuters order shuttle transportation for trips around town.

Automakers are increasingly seeing their roles as providing mobility rather than just selling vehicles."
Global Rental Car Company Market Poised to Rake in US$ 176.2 Bn by 2025, Driven by Rising Tourism, Expansion by Industry Leaders and Increasing Number of International Arrivals
So says the latest report from Future Market Insights –  Global Car Rental Market 2015-2019 – where the key findings say that the market driver (pardon the pun) is the growth of tourism.  The primary challenge to growth would be increases in oil prices. While the largest geographic areas of growth are in the APAC region, there is substantial growth possible in secondary and tertiary cities throughout the United States, where car sharing has less penetration.
Global Car Rental Report to 2018 – gives greater depth to the findings above.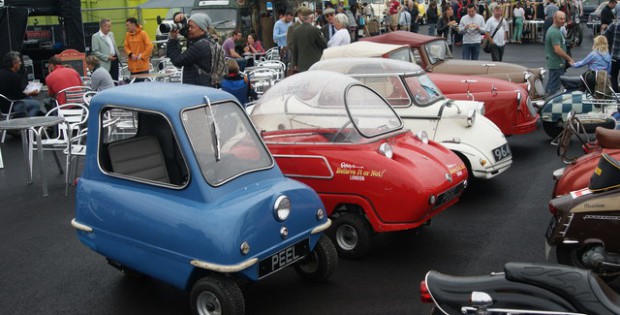 Specialty Vehicles
Are these TOO specialty for you?  🙂  They would be for me. But there's horses for courses, and some folks would love to experience a wacky car for a day. Some folks might only be able to afford what is traditionally "a clown car", right?