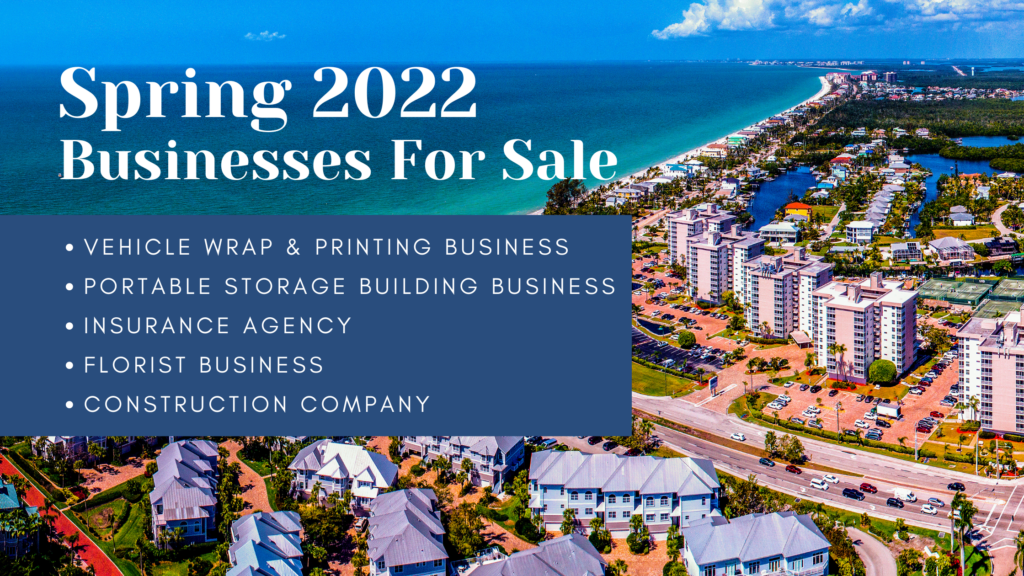 Believe it or not, we are a month into quarter 2. If you are on the market for acquiring a new business, you won't want to wait on these listings. From a Vehicle Wrap & Printing Business to a  well-known Florist Business. If you are looking to acquire a business this season, John Geiwitz can guide you through the business buying process from beginning to end.
John is a Certified Business Intermediary located in Jacksonville, Florida. Please feel free to call 904-412-5771 or email johng@tworld.com for more information.
Jacksonville Business Broker can also help designing your exit strategy with a great deal of experience in valuating and selling related businesses.
Vehicle Wrap & Printing Business
Don't miss your opportunity to own this rapidly growing, multi-location, vehicle wrap and printing service business. The Southwest Florida coast's largest fleet vehicle wrap shop focusing on high quality, fast turnaround times for fleets. Offering in house shelving & vehicle accessories installations to keep vehicles up fitting time down. Many fleets need to send their trucks/vans to an up fitter for shelves/accessories then to a wrap shop which can take > 30 days, but this one-stop business handles it all in house normally with a 1 week turn arounds! This helps their fleet customers get back to work faster & sets them aside from any competition. 70% of revenue is from vehicle wraps, 10% from upfitting services, 10% wall wraps, signs & decals & 10% outsourced paper & apparel printing services. Huge potential for growth + SBA Pre-Qualified with only $180K down + Turnkey operation + Generous Seller financing + Pristine equipment & Locations = Will sell fast so email me today for an NDA!
Price: $1,600,000
Gross: $1,290,000
Down: $180,000
Net: $408,500
Portable Storage Buildings Business
Don't miss your chance to own one of the most proven and exclusive metal and storage building businesses in South Gorgia. This well-established company specializes in the sales of prefabrication of portable storage buildings – custom metal garages, certified metal carports, metal barns, metal sheds, and numerous other structures that are delivered pre-built and ready-to-place on your property. Price includes high visible real estate valued at $550,000. In addition to pioneering an alternative to laborious on-site construction processes, they have eliminated financial stressors. With an established Zero Down Financing and Rent-to-Own program, customers fulfill their metal building needs without payment limitations.
Price: $1,795,000
Gross: $1,140,000
Net: $465,000
Real Estate Included: $550,000
Popular Brand Insurance Agency
Well established Insurance Agency in North Georgia. Agency is one of the most popular brands known in the world! Agency has local sponsorships in the community & maintains over 3,200 policies at a 90% plus renewal rate! National Advertising Program, with local Marketing support & reimbursements. Provides Commercial Insurance, Auto, Home, & Marine Insurance as well as product Portfolio from Met Life. Ownership of your book of business with a Guaranteed buy back from parent company, bonuses based on production levels. University provides training for owners & Staff as you need to grow. Licensed customer relations employee is a valuable asset for new owner & the owner/spouse willing to assist in transition to insure a smooth transition. SBA pre-qualified! License & insurance experience is required. Low down payment, rapidly growing year over year, popular brand, & flexible Seller for transition = This will go fast!
Price: $1,200,000
Down: $150,000
Gross Sales $638,000
Net: $421,000
Well-Known Floral Franchise
Long established, well known franchise florist. Popular with lots of repeat business. Great location in a stand-alone building in a high traffic area, Manager and long term employees in place. Owner does no flowral design, a buyer does not need to be able to do design work. Excellent books and records. Seller owns the property and will lease to a new owner, the real estate is available if a buyer wants to purchase with the business. Generous Seller Financing $149K for 5 Years!
Price: $299,000
Down: $150,000
Gross Revenue: $840,000
Net: $147,000
Well-Established Heavy Construction Company
General Contractor offering a wide variety of services including but not limited to: Earthwork, Underground Utilities, Demolition, and Steel Building Installation. The seller has been servicing the commercial and state market for 12 years and has an excellent reputation with repeat business. Over $8,000,000 in work in progress and high percentage bids with repeat clients. The seller has 25 full time employees. Two experienced superintendents. The main superintendent has been with the company since it was started. He can manage the business when the seller is not available. A full-time office manager is responsible for billing, accounts receivables, payroll, bookkeeping and assistance with preparation of bids. The company uses QuickBooks. The seller will provide 15 business days of training during a transition period. Depending on the needs of the buyer, the seller is willing to consider staying on in some capacity with compensation depending on the time required and responsibilities. Currently this is a month to month and the Property owner will consider any options, rent is currently $1,800.00 per month.
Price: $2,500,000
Down: $412,000
Net: $1,000,000
Over $8,000,000 Work In Progress
Listings Coming Soon
Roofing Contractor
Sales: $5.5M and Growing
Net: $482,000
Price : $899,000
Real Estate School
Sales: $570,000 with huge potential for growth
Net: $162,000
Price: $500,000
Dental Personnel Staffing Service
Sales: $77,000 with huge potential for growth
Net: $58,000
Price: $174,000
Down: $120,000
Note: $54,000 
South Florida's Largest Pool Builder
Sales: $15M
Net: $3.1M
Price: Open for indications of interest
Large Plumbing Contractor in Orlando area
Sales: $3M
Net: $1.3M
Price: $5M