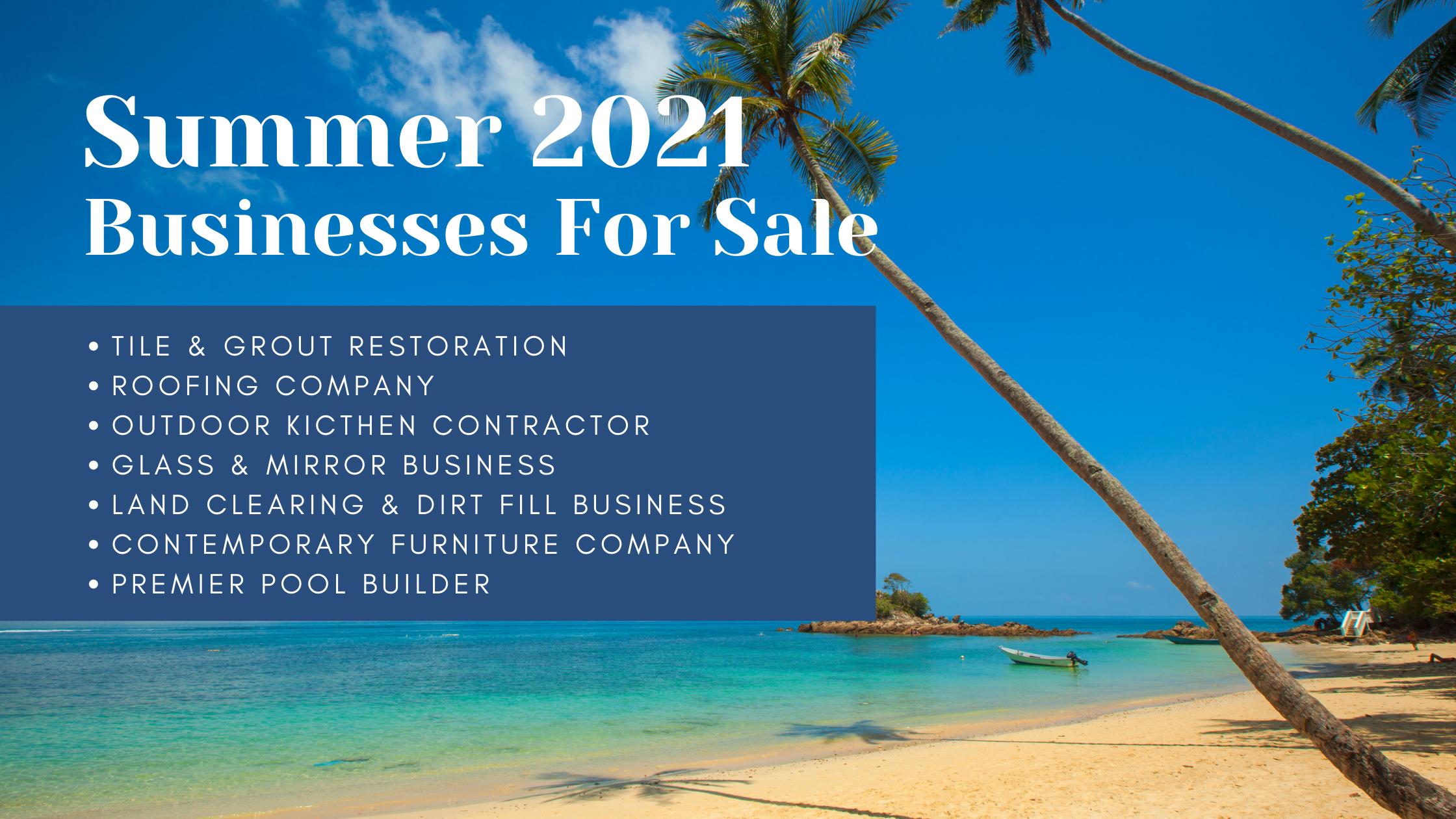 There are some HOT businesses for sale this Summer! From a contemporary furniture store to a residential and commercial roofing company. If you are looking to acquire a business this season, John Geiwitz can guide you through the business buying process from beginning to end.
John is a Certified Business Intermediary located in Jacksonville, Florida. Please feel free to call 904-412-5771 or email johng@tworld.com for more information.
Jacksonville Business Broker can also help designing your exit strategy with a great deal of experience in valuating and selling related businesses.
Multiple Location Furniture Business
Don't miss your opportunity to own this Growing & unique furniture business specializing in premium & custom hardwood teak & tiger wood indoor & outdoor furniture with 4 locations and incredible real estate & locations established for nearly 20 years. With amazing one-of-a-kind furniture hand-selected from around the globe, this multi-location furniture and accessory group of stores offers unique coastal contemporary items that can't be found anywhere else. Generating 2021 projected sales of $3.4M with a net of $950,000. Great staff in place, exclusive arrangements with manufactures throughout the world, $400K of inventory included, Real Estate valued at almost $2M included, great books & records, SBA pre-approved and double-digit growth so far in 2021 make this an incredible opportunity. 2021 sales are up 45% 2020 with no sign of slowing down.
Price: $4,700,000
Real Estate: $2,100,000 (Included)
Inventory: $400,000
Down: $705,000
Net: $1,076,181
Glass & Mirror Business
Sales and Owner Benefit are up, and the price has been reduced! Great opportunity to own a growing and essential glass business with $1.2M real estate included! Established 29 years serving North Florida as a full-service residential glass and commercial glass shop. About 70% of the revenue is from residential customers directly, the remaining 30% from loyal realtors and commercial customers. A great reputation built on fast, friendly, dependable service with quality workmanship. Providing glass and mirror services including fogged glass replacement, tub & shower glass enclosures, mirror walls, window repair, furniture tops, decorative glass, patio door, and window repair and office glass repair. Great book and records. Seasoned staff in place. Completely turnkey operation with great vehicles and equipment! SBA incentives in place so this one will not last long
Price: $1,499,000
Real Estate: $1,200,000 (Included)
Down: $149,000
Net: $314,113
Outdoor Kitchen Contractor
Do not miss your chance to own this fast growing, high-end custom outdoor contracting business. The absolute best in the industry for custom outdoor kitchens, fireplaces/fire pits & pergolas, building high-end backyards for the most discriminating customers. The core business surrounds the backyard & backyard living as well as custom designed outdoor projects professional services. The historic beautiful showroom is the display center and focal point for project concepts & high-end products in Florida. They cater to high end customers; you must see this business to fully appreciate it! Great customer diversification with 90% of the revenue from residential & 10% from commercial applications. So busy they are having to turn business away! Tremendous growth for a fulltime owner operator. SBA Pre-Qualified, Great location with Real Estate estimated to be worth $625,000 & an owner benefit on track to exceed $375,000 in 2021, this listing will go fast so email me today for an NDA!
Price: $1,100,000
Real Estate: $625,000 (Included)
Down: $165,000
Gross Sales $1,349,567
Net: $376,460
Well-Established Roofing Business
NE Florida Based (Jacksonville and St. Aug mostly)

Gross $12M +/- Year @ 45% residential, 15% construction/waterproofing and 40% commercial 

Net $1.5M +/- Year

Ask $5.8M – In the process of getting SBA pre-qualified.

Great systems and staff in place
Tile & Grout Restoration Business
Do not miss your chance to own this well-established, essential, very profitable business with low overhead that can operate from a home or small office. Specializing in tile and grout cleaning and restoration using innovative processes that decrease labor by 50% and is expanding as the NE Florida market is continually growing. Sales in 2021 are reflecting pre-Covid numbers of 200k+, with Owner Benefit of $123,400. New owners can expect immediate return on investment. Each new technician hired can add $100k in additional revenue. Uniquely positioned as the only tile & grout restoration company in Jacksonville and St Augustine that does not use steam or harmful chemicals. Continually attract new clients with a strong website and reviews on HomeAdvisor & Google – 4.8 rating! Completely turnkey operation with great staff and systems in place. Operate this business with ease with their real-time interactive mobile software to manage estimates, job scheduling, crew mapping, invoicing & payments which links directly to Quickbooks. Grow this highly profitable business in one of the most sought-after Counties in Florida. Impeccable books & records with generous financing for a qualified Buyer, Email for NDA NOW! VERY MOTIVATED SELLER!
Price: $239,000
Down: $167,000
Seller Financing $72,000 for 48 months
Gross Sales $195,7100
Net: $123,401
Land Clearing & Dirt Fill Business
NE Florida Based (Jacksonville and St. Aug mostly)

Gross $1.9M +/- Year

Net $750,000 +/- Year

Includes 50 Acres in St. Johns County utilized as for excavation located in prime location for subdividing into 5-acre parcels, currently valued at $1,775,000. 

Includes $1,200,000 FMV heavy equipment – Turnkey operation.

Great systems and staff in place 

Located in the fastest growing county in the USA but Seller is ready to retire (post-transition) so he turns a lot of business away = Great growth potential!

Ask $5.8M – SBA pre-qualified.
Premier Pool Builder
The premier pool builder in NE Florida with gross sales averaging $10M and netting $1,500,000 to $2M/year. Builds 100 to 120 pools per year averaging $50,000 per pool. Generates nearly $100,000 per month from 500+ cleaning/maintenance accounts. Conveys with highly visible showroom and property worth over $2.3M and a full fleet of vehicles/equipment with FMV of nearly $700,000.